You've chosen the dress, the accessories, the shoes... Now it's time for hair and make-up. Choosing wedding day hair and make-up can be daunting, but we're here to help! Today, we're featuring wedding hairstyles to complement your wedding dress. From a romantic sweetheart neckline to a bateau neckline, we've got you covered. Read more below to find our favorite wedding hairstyles and the necklines they complement!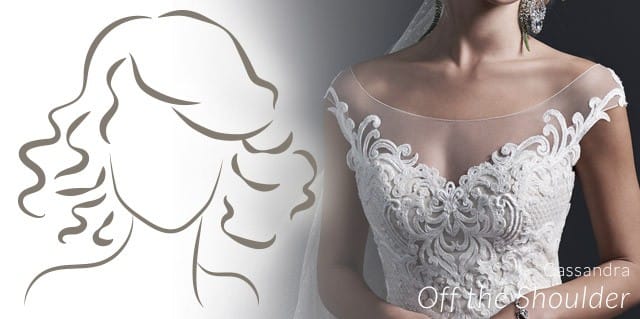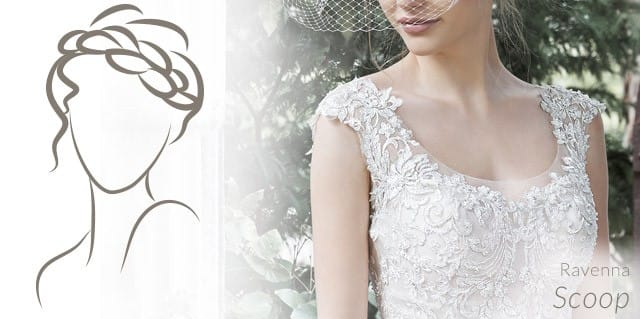 Barely There: An illusion, or barely there neckline, demands attention. Try styling hair half up, leaving the rest around your shoulders. Try a braided crown, or hair pinned with a sparkling, crystal brooch.
Strapless: A romantic strapless neckline is most of the most versatile necklines to style. We love the look of tousled, loose curls grazing the shoulders and complementing a strapless sweetheart neckline.
Off-the-Shoulder: When styling an off the shoulder neckline, we recommend keeping hair off the shoulders, focusing attention on this stunning neckline. For long hair, try pinning hair into a faux-bob, or a loose chignon. For short hair, try a few curls, or pinning hair back.
Bateau: A wide, high neckline that follows the line of the collarbone, a bateau neckline is quickly becoming a favorite among brides. Keep all eyes on this stunning neckline by styling hair in a modern updo. We love the look of a glamorous updo, with sleek sides and volume on top.
Scoop: Nothing says romance like a subtle scoop neckline. Mirror the romance in your hairstyle with a loose updo, accented with a thick, braided crown.